The Program:
Cherene, Diana, Jen, Arlene and me (Sharon) all met to discuss the possibility of creating a partnership.
The Staff:
The first week of October, we asked Ashley and Tome be the point teachers for their respective participating classroom children, and active participants in the discussion. We knew that Tome has a clinical phsychology background that would be beneficial, and Ashley would bring her love of grandfriends, having had a strong relationship with grandparents in her own life. Diana, Cherene, Ashley, Tome and I met together to begin discussions. We discussed our own relationships with grandparents, and our personal attachments to this project. The process of familiarizing families with the program, getting permission slips and media releases, and arranging transportation (with the Shalom buses through the elder center) took a couple of weeks. We are grateful that we are able to arrange transportation through the Gidwitz Center.
The Children:
We wondered:
What are children's experiences with elders?
What are children's perceptions of who is "old," and how they define or decide on that term?
How do children relate to walking adapters?
What level of empathy and understanding do children have for the special rights of elders?
Provocations:
We met in small groups with the children, to have preliminary discussions about the experience we would all be undertaking. They had visit Gidwitz Place before Rosh Hashanah, so we asked them what they remembered about the place.
"They had birds."
"We went to the beach after." (to partake in the mitzvah of tashlich)
None of the children seemed to particularly remember the people we visited.
One teacher asked, "Do you remember anything about the people living there?"
"Yeah, some of them had wheelchairs."
On October 18, 2018, We gathered together walking adapters: canes, a walker, and a wheelchair. For the most part, children explored these adaptors with a lot of glee.
Some of the children were apprehensive to try the wheelchair, and watched the friends who tried it first, seeming to assess that it was a safe and seemingly enjoyable ride before trying it themselves.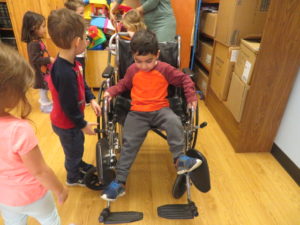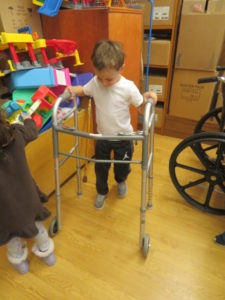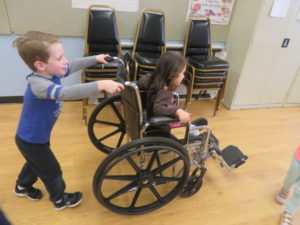 We also laid out a series of photographs of faces that represented different points of the life cycle, from infant to elder. We asked the children who they considered "old" in the photographs, and why?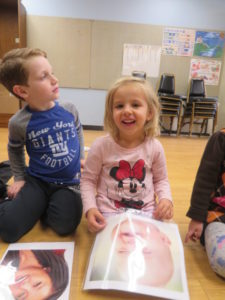 Children identified photos of people that might look like they are in their 50's – 80's. When we asked the children what about the face in the photo makes them look old, they said:
"They look like they aren't going to have any more birthdays…like my grandma."
"Their hair is silver."
"Their skin…"
The children discussed that the skin of the elders looked different, and we gave them the language of wrinkles. I offered them to touch a line on my forehead, and asked them how it felt:
"Rough."
"Funny"
"Different."